All pinball machines have been thoroughly reconditioned with a 40 point checklist including; playfield restoration, wax, new rubber rings, all lights checked and replaced as necessary, all features tested and reconditioned as needed, all electronic circuits inspected and repaired. Cabinet imperfections filled, sanded, spot-puttied and touched up by a professional artist. We upgrade all of our pinball machines with high quality LED light bulbs. These pinball machines look like new, play like new and all our products include a 60-day warranty.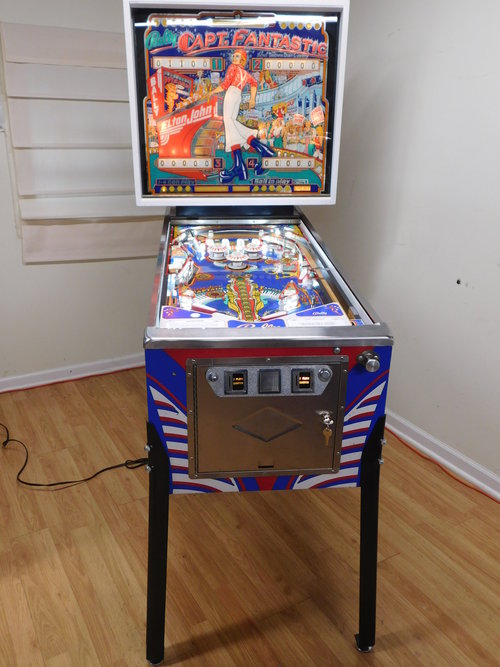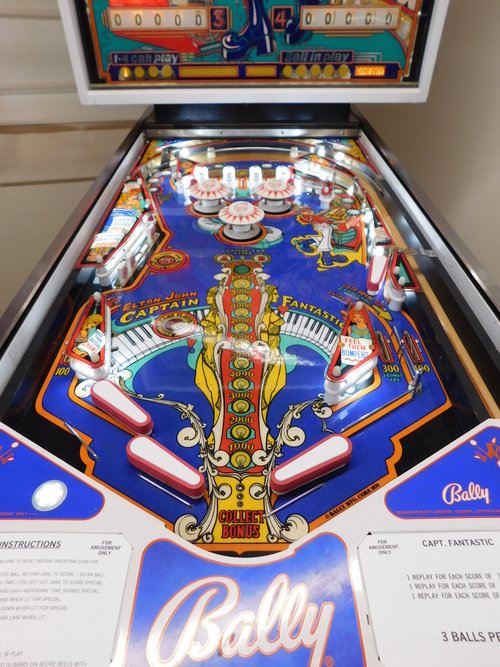 1975 Bally Captain Fantastic
(Original Production: 16,155 units)

'Capt. Fantastic' was inspired by the movie 'Tommy' and includes a representation of Elton John, as his character from the movie, playing pinball on the backglass. This classic 1970's art "piece" will look great in your home!

Exciting target drops

4 flippers

3 pop bumpers
1976 Bally Evel Knievel
(Original Production: 14,000 units)

Evel Knievel is the original Bally solid state pinball game and is based on the famous motorcycle stunt driver. Go for the left drop targets to increase the Spinner values and enable the Extra Ball, or spell CYCLE to raise the value of the center bumper and try to score a Special.

Exciting target drops

2 Flippers

3 pop bumpers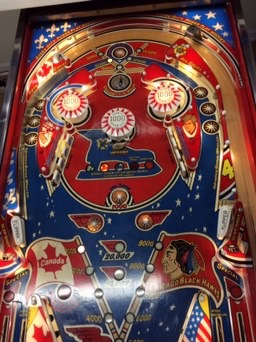 1978 Bally Power Play
(Original Production 13,750 Units)
Power Play starring Bobby Orr. Three ways to score specials, slap-shot flippers and ball-saver post. The gameplay is the Chicago Blackhawks versus Canada.
Twin Drop Target Banks

Extra Balls with Conservative-Liberal Flexibility

Big scoring kickoff hole
1980 Bally Fireball II Pinball
(Original Production 2,300 Units)
Fireball II is a combustible combination of features! The doomsday bonus feature is activated by the center drop targets and multiplied by the center drop targets. Also includes fireball bonus feature!
Kick-out hole

3 flippers

3 pop bumper
1977 Bally Eight Ball
(Original Production 20,230 Units)
Bally started a long line of hits with this release, the original Eight Ball. It uses the likeness of the Fonz on the backglass and artwork. Eight Ball presents a wonderful mix of the old and new. Preserved from the EM era is a beautifully laid out open playfield complete shots to light up the stripes and solids, however it uses early digital technology to operate.
3 pop bumpers

2 slingshots

4 player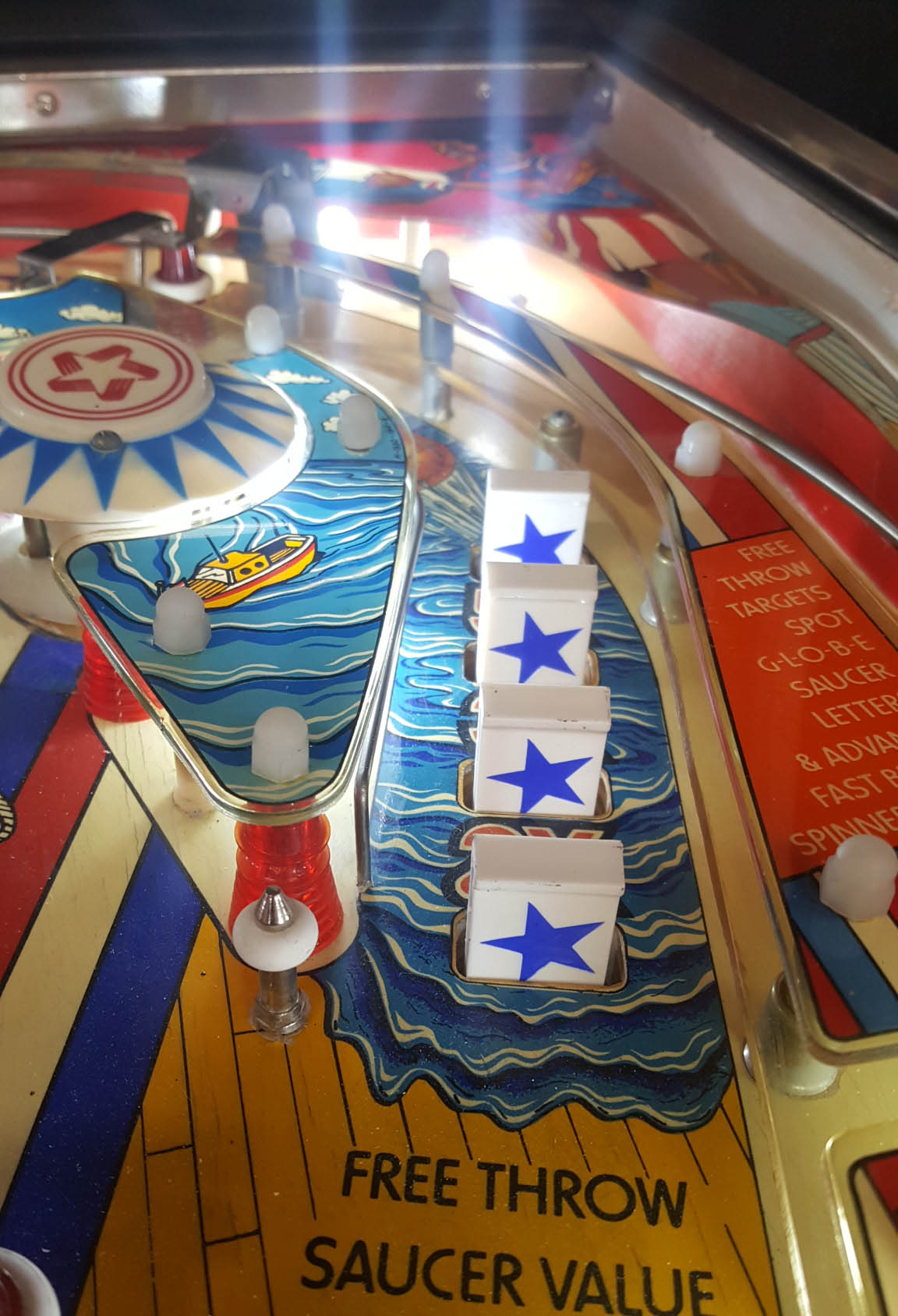 1979 Bally Harlem Globetrotters "On Tour"
(Original Production 14,550 Units)
Harlem Globetrotters is a classic Bally design.It plays the Sweet Georgia Brown theme when a game is started. At the top center it has a saucer that awards the letters G-L-O-B-E. The letters alternate at about half-second intervals and you are awarded the lit letter when the ball lands in the saucer. The goal is to spell GLOBE. On the right the game has 4 stand up targets located about an inch and a half inside some posts called the DUNK area.
3 Pop Bumpers

3 Spinning Targets

2 Kick-out Holes
DON'T SEE WHAT YOU'RE LOOKING FOR?
Check out more pinball machines here or look at our coming soon page!